October 28, 2023
IV Food Bank's P3 Proves the Power of Philanthropy
This article was originally published by the Calexico Chronicle on October 28, 2023 and can be read here.
BY KIMBER DIAL
IMPERIAL - Kandy Pereira, the Imperial Valley Food Bank's office manager, was going above and beyond describing her table full of all varieties of wine — "leather notes with blackberry hints," "raspberry and chocolate flavors" and so on to her curious guests sampling a Washington-based wine.
On Thursday night, Oct. 26, the annual Palate, Palette, & Pallet (named P3) wine- and beer-tasting and art show fundraiser began as the sun was setting and it proved a feast for the senses, as the Imperial Valley Food Bank courtyard was lit up by string lights and was bustling with action for the second annual event since being taken over by the Food Bank. 
The fundraiser started at 6 p.m. but guests were in line by 5:45 eagerly awaiting their share of wine and beer, one-of-a-kind local art and live musical performances.
The fundraiser event named for the three Ps, included an abundance of snacks and appetizers for guests' palates, artwork to browse of various palettes and the funds raised overall will be put toward purchasing pallets of food for people in need in the Imperial Valley.
For 60 years, the event known as Fall Festival of Palate and Palette was hosted by the Sts. Peter and Paul Episcopal Church in El Centro, where traditions came to a halt with the COVID-19 pandemic. In 2022, the new location for the event found its home at 486 W. Aten Road at the Food Bank.
"The P3 event is a fundraising event, but also a 'friend raising' event," said Sara Griffen, executive director of the IV Food Bank.
P3 is the second-largest event the Food Bank puts on, second to its Harvest Bowl, which was just a couple weeks ago in the same outdoor courtyard area, filled with guests, just like on Thursday night. Ticket sales for the event and a select few vendors are a huge part of the fundraising for the event, as well as the more than 60 unique pieces of art on display, including many for sale.
Mingling between the standing tables or sitting at the bleacher-style amphitheater listening to music, the small crowd included Food Bank staff and volunteers replacing food trays and wine bottles, board members and family ready to support the fundraiser, local citizens enjoying a cool fall evening, art aficionados ready to admire, and the artists themselves could all be seen walking around the event.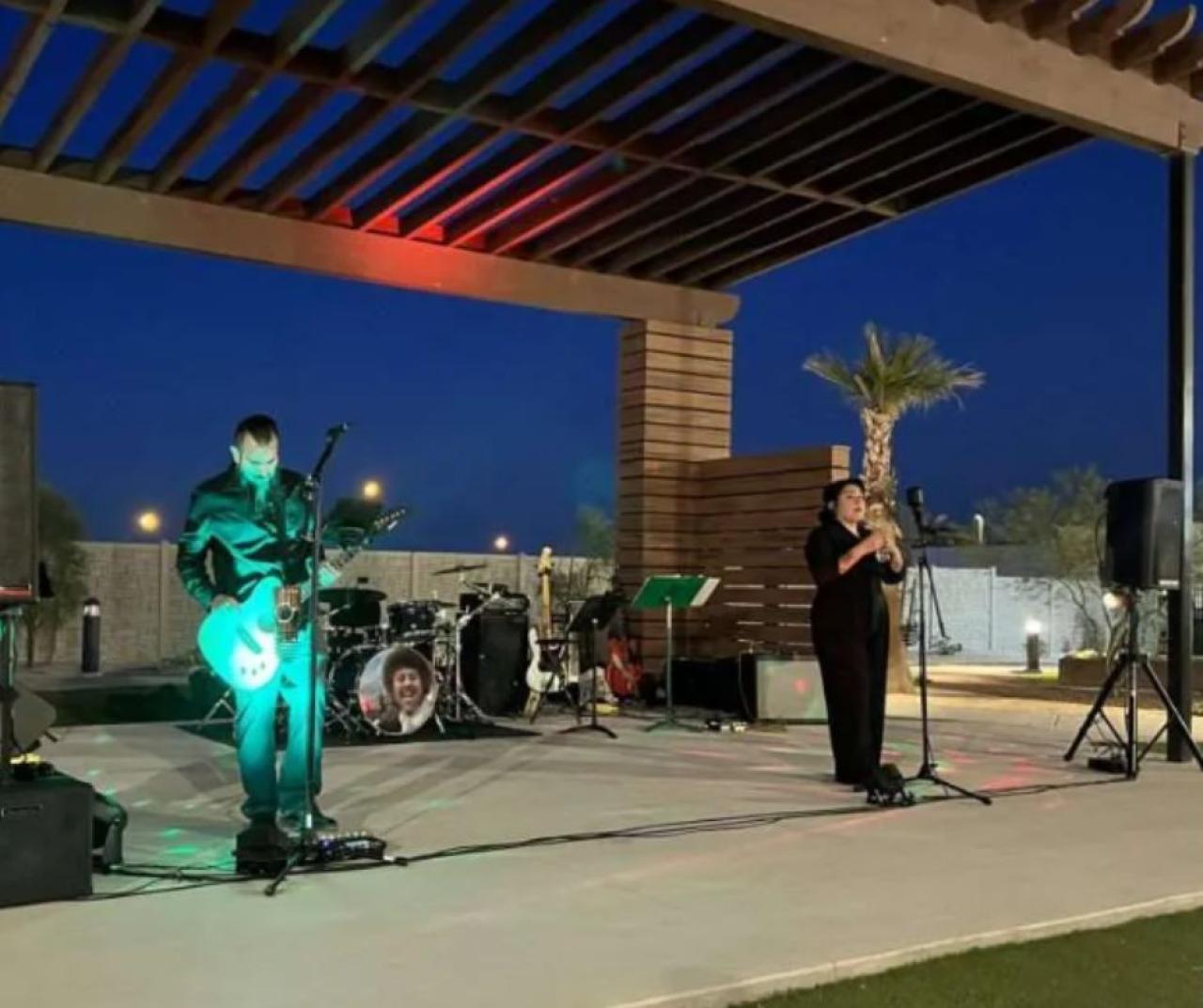 As the sun set, the evening had just begun for the live music provided by Brawley locals Kelly and Lorenzo. Kelly's voice was heard throughout the venue, while Lorenzo played the guitar to musical covers all night. Blue Lake, a four-member band, alternated playing time with the duo, and provided music by adding drums, saxophone, and guitar notes to the air. When guests needed a break from networking, many were found nodding their heads along to the beat while enjoying their tastings.
Food was plentiful. Charcuterie boards with assorted foods were spread out on tables all over the venue, displayed with festive fall decor. Surrounding the hor d'oeuvres tables were the assorted wines and beer available for tasting. There were dozens of wine options available, reds and whites all around. From cabernet sauvignon to rose, there were options for everyone. Patrons could be seen trying the wide variety, lining up to try their preferred blend with friends.
Behind the food displays, was the Food Bank warehouse, where the art displays were lined up and organized by media types, from photography in the front, to mixed media and drawings in the back, with sculptures and quilting in the center. The Food Bank was proud to exhibit its food supply to guests, displaying all artwork between rows of canned goods and other foods in the new Food Bank warehouse.
There was a variety of art available to look over included mixed media pieces, acrylic paintings on canvas, pencil drawings, photography, quilting, and hand-crafted sculptures. All of the art pieces seen were provided by Imperial Valley artists. In the last few months, the Food Bank advertised to local artists seeking exposure, with the opportunity to sell their work and win the people's choice contests.
Talented Imperial Valley citizens displayed art for the friendly competition in a wide variety of categories. All artists were invited to join the event, wearing "artist" lanyards with their names on it, and some were proud to stand near their work and talk to curious observers about any artistic or inspirational questions.
One local artist, Lisa Gallinat of El Centro, was enjoying the event with her husband, talking to guests about her quilting work. The creativity and effort put into the over 6-foot-by-6-foot quilt was apparent when listening to Gallinat talk.
"Every piece of work tells a story," she said while talking about one of her displayed quilt pieces. "My style of quilting includes abstract style," Gillinat mentioned while talking about a half-and-half split design on a quilt with a large Gibson guitar shape.
I added the shapes of music notes sewn into the design using long-arm quilting to keep the blanket together," Gallinat pointed out.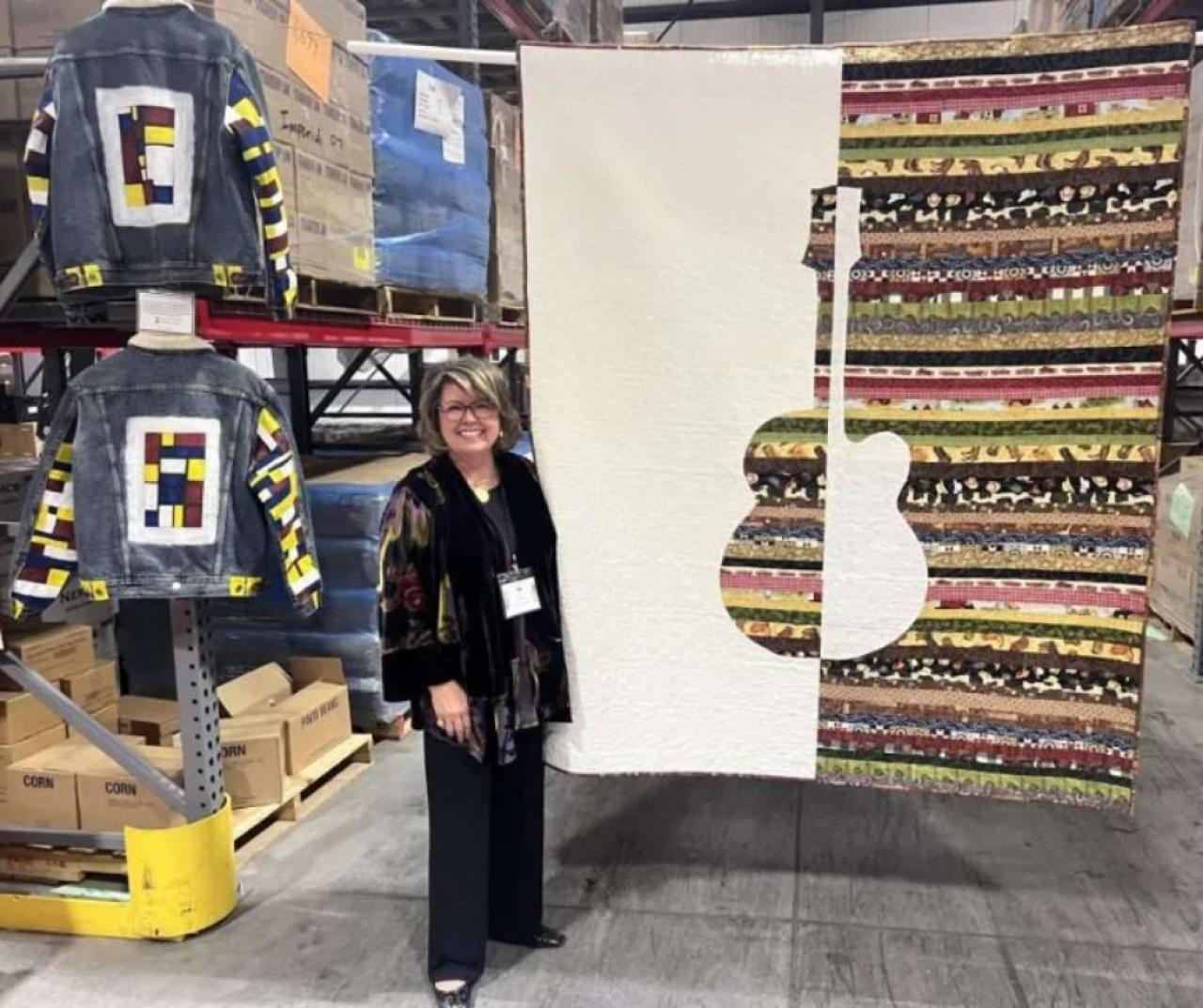 One half of the blanket was solid white material, while the other half had 1-inch strips of cowboy-esque-style fabric designs including horseshoes, cowboy hats, farm animals, and more, in alternating style the full length of the blanket. The quilted masterpiece was a handmade creation, crafted together to honor Gallinat's Imperial Valley, country living, guitar-playing father.
I like to give gifts that are unique and thoughtful," she shared when talking about how she got into the specific type of art expression. "And my mother was a seamstress and sewing instructor," she added, which gave her an advantage learning the skills throughout her life.
She laughed and shared in a final note, "I was Facetiming my mom during this quilting project asking things like how do i fix this corner?"
Many artists like Gallinat were found telling their personal anecdotes behind their work, and sharing artistic tips in the Food Bank warehouse all evening long.
For the people's choice voting, the Food Bank staff tallied up the results from Thursday and posted them online Friday, Oct. 27, on the Food Bank's Facebook page. Among the winners were Brawley photographer Sergio Bastidas, with his "Lightning Nights," luster print, as well as winners in each of the other artistic categories. All Imperial Valley artists walked away with exposure and admiration after the art event, and many fortunate individuals sold their work.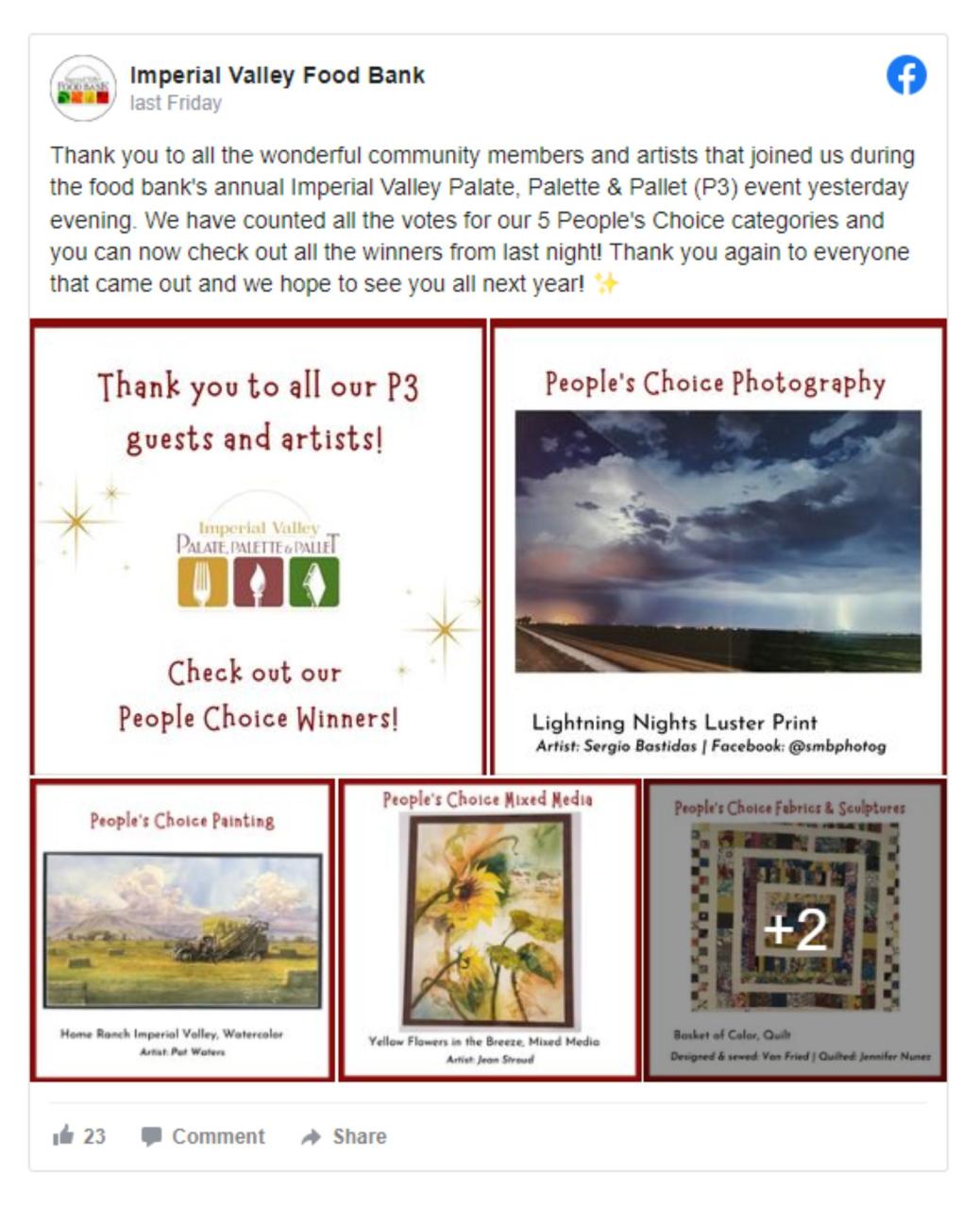 A Helping Hand to Those in Need
Local farmer and IV Food Bank board member Jimmy Abatti was enjoying the evening with a plate of snacks talking with guests, showing his support with his wife, Deborah Owen. Abatti shared a few details on Food Bank activities, saying, "To raise funds and keep operations running, the Food Bank rents out its amphitheater courtyard area for private events and also rents their large kitchens."
Providing a resource to the Imperial Valley through these ways, as well as the fundraising events are all crucial elements to raising funds for the Food Bank's success, he said. "Here there is an overwhelmingly giving community. You don't have that everywhere," Abatti added.
The funds raised at the P3 event will help with "transportation costs, personnel, food and other resources so the Food Bank can continue to provide to the Imperial Valley," he said.
The Food Bank provides citizens in need with the food to ensure everyone has an opportunity to feed their families, and the number of those in need might be higher than one thinks. From the top of the amphitheater stage, Executive Director Griffen announced humbly, "we serve about 25,000 people a month. We feed people in need."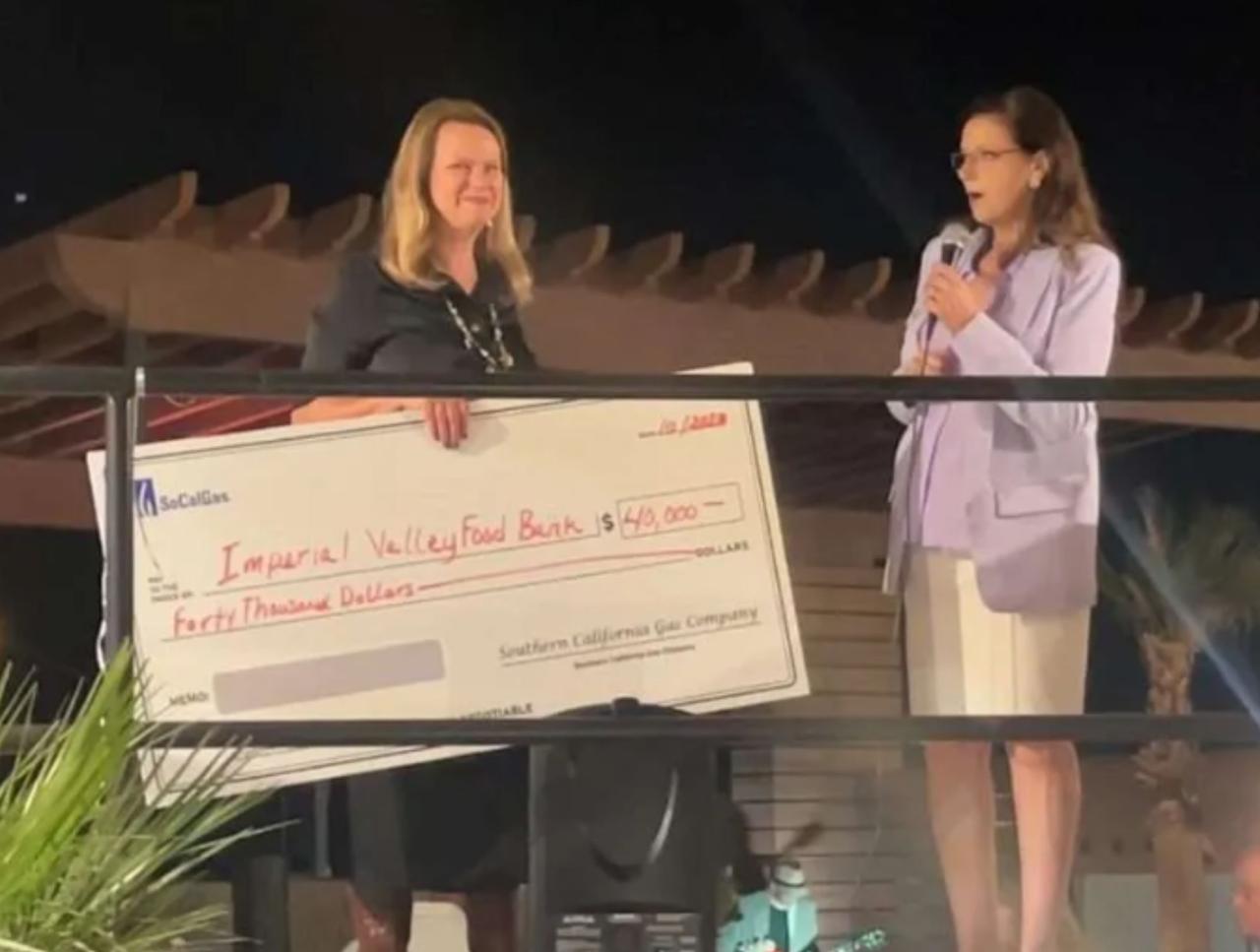 Some "25 percent of children in the Imperial Valley suffer from food insecurity," according to statistics provided by the IV Food Bank. Food insecurity is described as "residents without reliable access to a sufficient quantity of affordable, nutritious food."
The Food Bank's hard work was recognized Thursday evening by way of a large donation from the Southern California Gas Co. That giving community Abatti mentioned was present for this generous display of support. Deborah McGary, public affairs manager for SoCalGas, met with Griffen on stage and proudly handed over a $40,000 ceremonial check.
"I have a big heart for food banks," and, "we (SoCalGas) got the opportunity to figure out how to support our communities, especially with the challenge of fuel prices going up the last few years, so the shareholders got together and decided to give $10 million of our funding to donate and help our local communities," McGary said.
A beaming Griffen ensured the money will be put to good use for the Imperial Valley's needs. McGary smiled and added, "and we hope to give even more next year!"